Utility Belts
Published from the Chicago Tribune [Style] Sunday 4/29/07
The return of the waist means it's time to take your supply up a notch.
By Wendy Donahue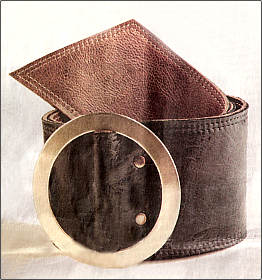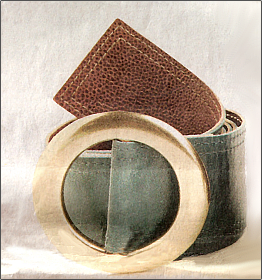 Kristin Kahle black and brown 3-inch Lorin reversible leather belt, $195. Kristin Kahle teal and brown 2-inch Demi reversible belt, $160. www.kristinkahle.com
Each fluid, floaty dress on the racks this spring triggers a mix of celebration and consternation.
It will disguise every flaw! It also might hide every asset.
Unless, that is, someone kindly point out the power of a belt.
"There's so much volume in the clothes this season, so belts are even more important," says Sari Sloane, vice president of fashion and merchandising for Intermix, which just opened its first Chicago store at Rush and Delaware. "They let you wear the look but still give you a flattering figure."
Patent leather is a key trend for belts, but the options are just about endless, says Gregg Andrews, fashion director for Nordstrom. It's still chic to sling them around the hips but the news is at the waist, with the emergence of high-volume-dresses and higher-rise pants.
"We're seeing very thin belts that can be tailored leather, belts that are sort of cords that are meant to be tied, thin belts with decorative bows, very wide belts, like waist cinchers, leathers or elastics," Andrews said. "Moving into summer we're seeing textured leathers that have a more casual feel. They're great with cotton and linen and the tropical and botanical prints we'll see in the summer months."
"Because there's such a variety of belts, you need to try them on," Andrews said, "and ideally, if you're thinking about a specific look, really try it on together. If you have a short waist, some of the very wide belts may not be proportioned for your figure. The softer belts, the cord or obi-style belts, give you a little width but because they're softer they're a little more forgiving."
(See the tip box below right, on how to tell if you are short-waisted.)
Whatever their figure, many women remain a little waist-shy after seasons of low-slung pants and jeans. That's why Intermix makes a priority of showing shoppers how to put looks together, with multiple mannequins in the windows.
"With belts you can wear them with many different pieces," Sloane says, "with jeans and a top or over a dress."
So before you choke on the price tag or splurge on a trendy one, evaluate its versatility with what you already own.
"The '80s elastic ones, you don't need to spend a lot of money on that," Andrews says. "But a great chain belt or a great leather belt with a gold buckle, you're going to wear that for years. A great ethnic woven, you're going to wear that for years. You can expect to pay a little more."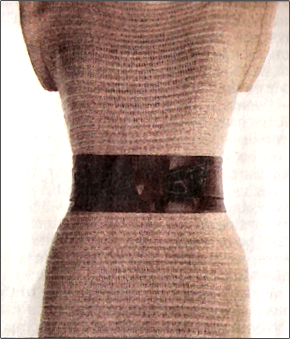 Theory toast Nyssa knit dress, $315 at Nordstrom, 520 N. Michigan Ave., 312-464-1515
Short –or long-waisted?
Jackie Walker, a stylist and author of "I Don't Have a Thing to Wear: The Psychology of Your Closet" (Simon and Schuster, 2003), offers this tool:
Stand up and bend your arms at the elbow. Hold them close to your side.
If your waist falls above the elbow, your are short-waisted.
At the elbow? Conventional.
Below the elbow? Long Waisted.
"When I do a seminar, women love this tip and discover new things about themselves," Walker says.